Bernard Tschumi lecture at Conference: Architecture of Deconstruction / The Specter of Jacques Derrida 2012 | Photo: Milica Lopičić
Architecture of Deconstruction / The Specter of Jacques Derrida was a three-day (October 25-27, 2012) international scientific conference organized by the Faculty of Architecture- University of Belgrade and the Center for Ethics, Law and Applied Philosophy (CELAP). The conference was aimed at drawing attention to the question of dividing lines between the disciplines of architecture and philosophy. Using the perspective of the relation between architectural theory and practice, which once aspired to be labeled deconstructivist, and the works of the French philosopher Jacques Derrida, the conference was aimed at defining whether a new kind of unease has emerged in the contemporary relations between the two disciplines.
With these issues in mind, we hoped to reestablish the connections which had so strongly influenced both architecture and philosophy in the last decades of the 20th century; and in doing so, to open a possibility of their reevaluation in the circumstances which define our contemporary times.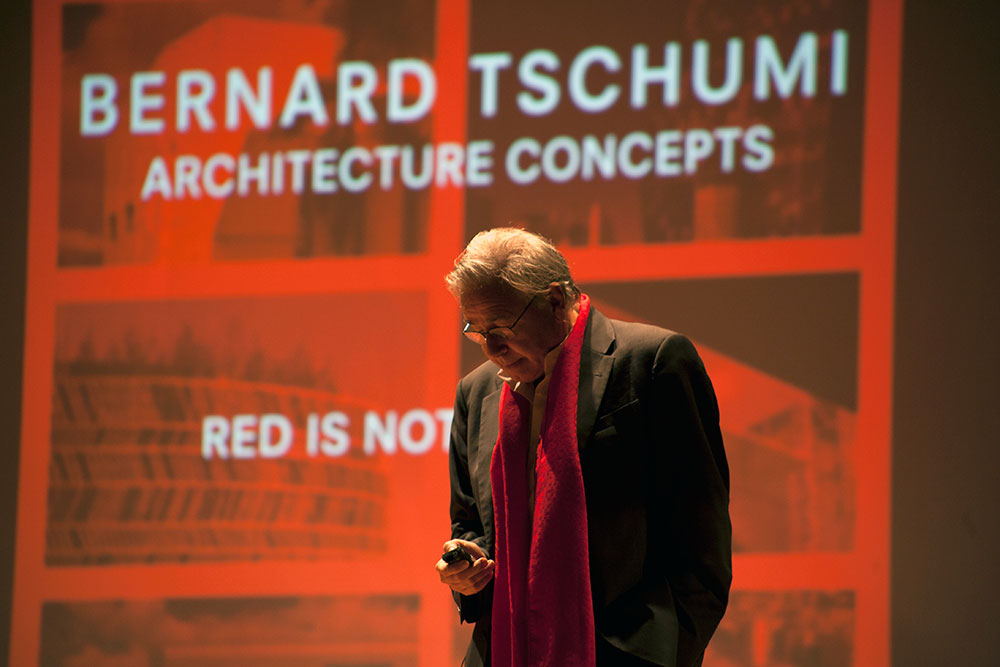 Bernard Tschumi | Photo: Milica Lopičić
Conference participants: Bernard Tschumi / Catherine Ingraham / Francesco Vitale / Jeffrey Kipnis / Ljiljana Blagojević / Mark Cousins / Mark Wigley / Maurizio Ferraris / Peter Eisenman / Renato Rizzi / Zoran Lazović / Madam Marguerite Derrida
LECTURES:
Ljiljana Blagojević, Postmodern Table-Turning: Architecture and Specters of Philosophy
Mark Cousins, Teaching Architectural History in an Architectural School and Playing on Words
Mark Wigley, The Geometry of Unease
Francesco Vitale, The law of oikos. Deconstructing the dwelling
Jeffrey Kipnis, On Derridean Grounds
Renato Rizzi, Pre-construction: the hidden hits
Catherine Ingraham, Architecture with a big a
Zoran Lazović, La nave di pietra
Bernard Tschumi, Derridarchitecture and Concept, Percept, Affect
Peter Eisenman, Derrida doubled and Interview with Jeffrey Kipnis
Chris Younès, Architecture and philosophy: paradoxes and metamorphoses of the meeting
Maurizio Ferraris, But what remains is founded by the poets
For further information, please see: www.displacingarchitecture.rs/site/architecture-of-deconstruction-more-info  link ne radi!!!
Following the conference SAJ published a thematic issue in 2013 (V-1) encompassing topics and reflections of the conference framework in five research papers. dodati download